Ride TransLink's new 80 Marine Drive Express bus route
Ride TransLink's new 80 Marine Drive Express bus route
A new express bus route has launched in Vancouver, connecting customers between River District and Marine Drive Station!
The 80 Marine Drive Express to River District / Marine Drive Station operates every weekday between 6 a.m. and 9 a.m. and between 3 p.m. and 6 p.m. It stops at Kerr, Elliott, Victoria, Knight, Fraser and Main streets.
This service complements the existing 100 22nd Street Station / Marpole Loop and 31 River District / Metrotown Station routes that already serve the River District. This growing community is situated the Fraser River and Southeast Marine Drive, between Kerr Street and Boundary Road. The 80 Marine Drive Express gives residents a new direct connection to the SkyTrain's Canada Line.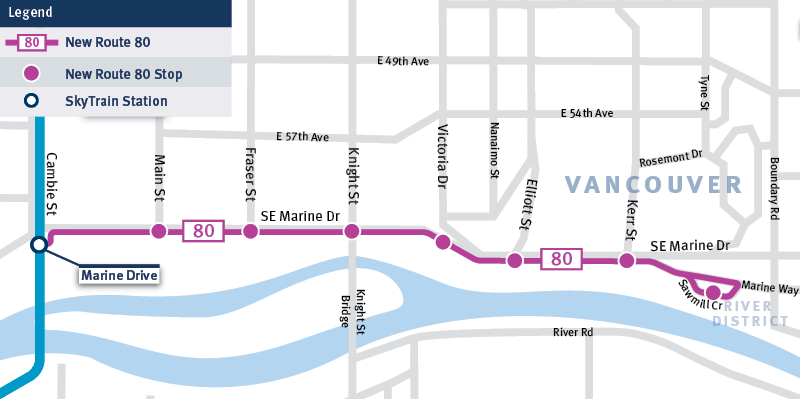 Made possible by bus stop balancing
We implemented the new 80 Marine Drive Express route within our current operating budget thanks to savings achieved through our Bus Stop Balancing program on several routes in Vancouver.  The program consolidates, removes, and adds new stops to improve travel times and reliability for customers across the region.
For example, bus priority measures combined with bus stop balancing on the 4 Powell / Downtown / UBC and 7 Nanaimo Station / Dunbar shortened customers' travel times by around 6 minutes per roundtrip. The routes now require fewer buses for the same service. We reinvested the savings into this new 80 route.
Bus stop balancing has the potential to create savings on other routes too. This allows for reinvestment in underserved areas like River District and beyond.
Marine Drive: a future bus rapid transit corridor
The Transport 2050: 10-Year Priorities identify Marine Drive as a future location for RapidBus and bus rapid transit (BRT). The 80 route helps to build ridership along the corridor in advance of these longer-term plans for transit improvements.